TOURS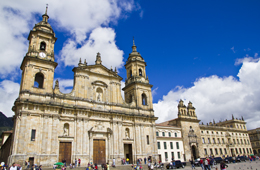 The mighty Amazon River and the lush forest are the perfect setting to immerse yourself in the amazing biodiversity found here on our planet. Our personalized tours are created for you to intimately experience the natural and cultural beauty of the region. Whether it be cruising up the Amazon River or exploring the immense forest you are guaranteed to have an unforgettable adventure.
All tours include meals and snacks, private lodging in one of our cabins, a personal bilingual guide, airport pick up and drop off as well as
activities
.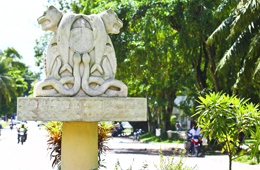 Depending on what time your flight arrives in Leticia it may not be possible to travel the same day to our lodge. In these cases we can book a hotel for you in Leticia and travel early the next morning to the lodge.
Please note that we do not book
flights
, however we are happy to give advice and suggestions, simply send us an
email
with your questions.
In most cases prior to arriving in Leticia guests will be staying in Bogota. If you would like recommendations on lodging or sites to visit feel free to ask and we will assist in any way we can.
We suggest that guests stay a minimum of 4 days and 3 nights although a 5 day/ 4 night stay will allow guests to participate in the majority of activities we offer. Of course we can organize shorter visits if necessary and longer stays are highly rocommended.
Accommodations
Visitors will be staying in one of our comfortable private cabins in the middle of the rainforest where the only access is by water. Despite our remote location guests can expect en suite restroom facilities with running water in all the cabins. Although we do not have electricity guests will be able to charge any electronic devices they may bring along.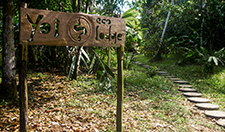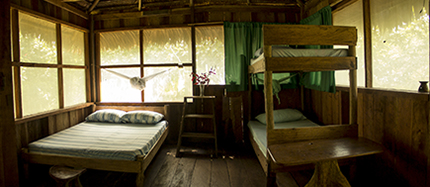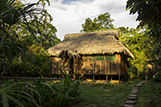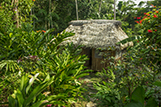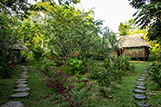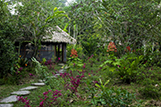 Food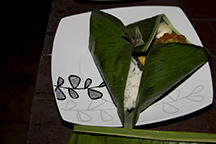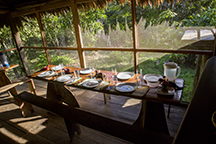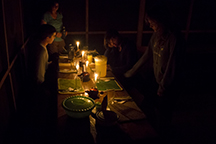 Guests will be served a mixture of local and international cuisine. No need to worry about something too exotic ending up on your plate but there may be opportunities to try some interesting delicacies if you are up for it. We can make accommodations for allergies and other prohibitive diets as long as we are informed well in advance of your arrival.
Example itinerary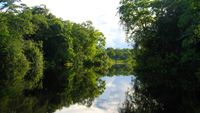 We encourage guests to stay a minimum of 4 days 3 nights and the following simplified tour itinerary reflects this length of stay, however both longer and shorter itineraries can be easily planned if need be. If the itinerary below doesn't include exactly what you are interested in not to worry, guests can select from the various activities we offer and we can plan a tour exactly to their taste. Note that no itinerary is set in stone as weather and other factors will influence which activities are possible on any given day.
Day 1
Pick up from the airport. Possible lunch in the city. Afterwards take a boat up the Amazon river and then up the Amacayacu river until reaching the lodge just before dark.
Day 2
Breakfast, followed by a hike where visitors will get their first true look at the rainforest as they learn about the local plants and animals. After lunch in the native community of Mocagua guests can visit the Maikuchiga monkey sanctuary and rehabilitation center where they will have a close up view of a number of the native primates. Dinner. Night walk looking for nocturnal animals.
Day 3
Breakfast, followed by an excursion to find the 2 dolphin species found in the Amazon. After lunch in Puerto Nariño take a trip to a black water lake to see different bird species, some more dolphin spotting and a chance to go for a swim. Time permitting, some fishing for piranhas and other local fish. Dinner.
Day 4
After breakfast head out from the lodge. Then the last cruise down the Amazon River to Leticia. Possible lunch in the city and a warm good bye followed by the flight back to Bogota.